The Foreigners
4 May–22 October 2023
The term 'foreigner' is commonly used to describe someone from another country. Can a foreigner, however, just as easily be someone who inhabits another identity, speaks another language, or is from another community? Moreover, can a foreigner be someone who straddles multiple identities, languages, and communities without neatly belonging to one?
'The Foreigners' brings together the works of 15 contemporary artists, who use varying media to address the entangled ways in which foreignness is inscribed onto them, marking them as strangers, outsiders, or transgressors. Together their works resist, reimagine, and re-mix well-worn tropes of how otherness is categorised and foreignness is perceived.
Arjuna Gunaratne
Danushka Marasinghe
Dinelka Liyanage
Hema Shironi
Hania Luthufi
Imaad Majeed
Isuru Kumarasinghe
Janani Cooray
K K Srinath Chathuranga
Nina Mangalanayagam
Reginald S. Aloysius
S.H. Sarath
Shyama Golden
Stephen Champion
Sumudi Suraweera
'The Foreigners' is curated by Sandev Handy and Sharmini Pereira
Exhibition Design by Jonathan Edward
Production by Malshani Delgahapitiya
Editorial by Kaumadi Jayaweera
Translations by Kaumadi Alawathugoda, Shiyalni Janarthanan, Phusathi Liyanaarachchi, Miriam Naveendran, Ravihari Ravendrakumar, and Saambavi Sivaji
Education and Public Programmes by Pramodha Weerasekera
We would like to thank all the artists, lenders, funders, and our Founding Patrons for the generous support in making this exhibition possible.
Additional thanks and gratitude to:
Afzal Farook
Ananda Amarasiri
Anoja Seneviratne
Bilesha Fernando
Crescat Management, Security, and Maintenance
Emile Molin
Heshani Karunanayake
Jonathan Edward
Joyce Adams So
Kalpa Munasinghe
Kishan Perera
Lalindra Amarasekara
Madhavi Gore
Mohamed Zarook
Nalliney Thangavelu
Nikhil Chopra
Nilshan Fernando
Niroshi Jayasekera
Priyantha Udagedara
Rasika Silva
Rohit Gupta
Sandeep Gopal
Sanjay Kulatunga
Saskia Fernando
Shanila Alles
Thavisha Wickramatunga
Thushara Perera
Tushma Perera
'The Foreigners' exhibition is generously supported by
Anojie Amerasinghe and Hugues Marchand
Radhika Chopra and Rajan Anandan
European Union
Additional support provided by
British Council Sri Lanka
Major Benefactors and Funders of the Museum of Modern and Contemporary Art Sri Lanka

John Keells Foundation
Nations Trust Bank
Fairfirst Insurance
Radio Partner

Lite FM
Founding Patrons 2023-2024
Shivanthi Atukorale and Ravin Basnayake
Sharmila and Akram Cassim
Samantha de Silva
Suresh Dominic
Abbas and Alnaas Esufally
Malik Fernando
Roshni and Sheran Fernando
Ajit and Chandani Gunewardene
Leena Hirdaramani
Anula Kusum Jayasuriya, David Gilmour, and Shani Sarkis
Kumar and Ranmali Mirchandani
Angeline Ondaatjie
Mohan Tissanayagam
Amitha, Arshia, and Shasthi Silva
Calendar
October 2023
Event Type
All Events
Today
This Weekend
For Kids
Gallery Talks
Tours
Workshops
Online
Join us to create Sri Lanka's first publicly accessible museum of modern and contemporary art.
The Museum of Modern and Contemporary Art Sri Lanka invites you to get involved through becoming a member or making a donation to our activities.
The Museum of Modern and Contemporary Art Sri Lanka is a new education-led initiative that aims to establish a public museum dedicated to the display, research, collection and conservation of Sri Lankan modern and contemporary art.
Our priority is to create a museum that is compelling, inclusive and relevant to the art histories that are unique to the contexts of Sri Lanka.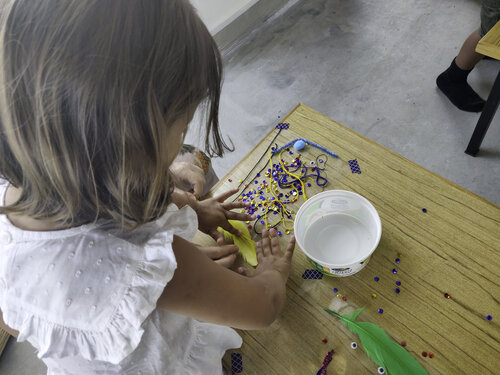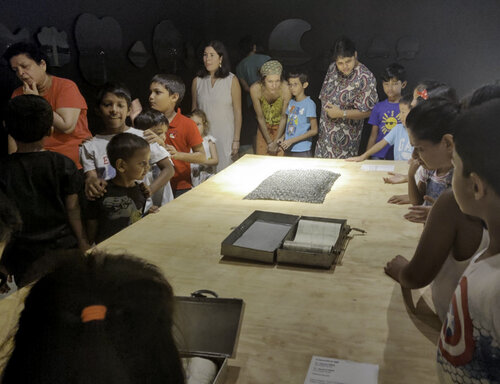 In the coming years, the museum will be defined through a process of exploration into what a museum of the future can be, who it will serve and how it will function. Through a process of reflecting aloud and in collaboration with different audiences, we hope this initiative will provide the opportunity to think about the space of a museum in different ways.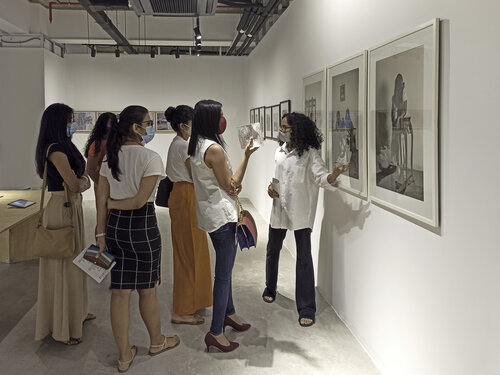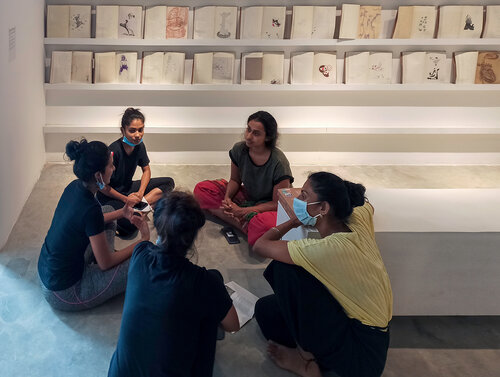 How can we approach language, class and socio-economic barriers to ensure that we are more inclusive and reflective of the contexts in which we are located? What can we learn and adapt from museums around the world? How will we contribute to the changing role of museums today? We will continue to pose these questions and those like them, in the belief that the museum it gives rise to will be better because of it.
Learning never stops.
Engage with our work on site or online
Education sits at the heart of the Museum of Modern and Contemporary Art. Take part in our learning programs at the museum or access them online when and where you choose.