On View
'one hundred thousand small tales'
19 December 201916 August 2020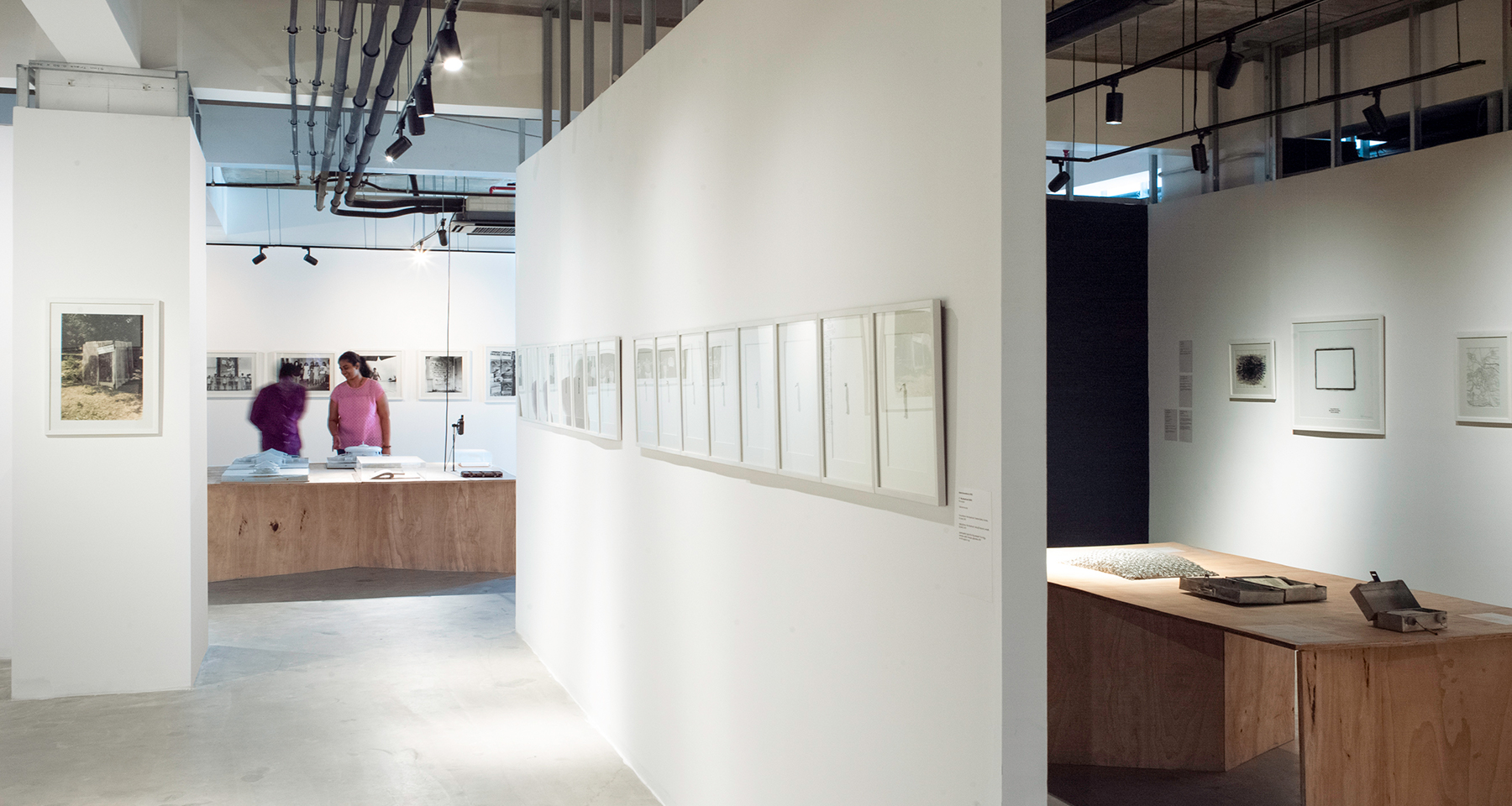 In 2003, Cheran, a leading contemporary Tamil poet, published a poem where he described how a
"… bridge, strengthened by its burden
of a hundred thousand tales
collapses within a single tear."
This exhibition draws its title, and curatorial impetus, from the exercise of imagining how the poem's burden of countless tales might be conceived as an exhibition. To this end, it views the collapse of a physical structure as a tipping point that gives rise to a body of knowledge, of excessive and epic proportions, and how this excess might be displayed, arranged, catalogued and understood. From afar, this exhibition addresses the task of recording an art history in terms of an artistic output that bore witness to many narratives, episodes, and accounts of what has come to pass in Sri Lanka during its recent history. Up close, it recognises the strength of Sri Lanka's artistic communities across several generations and the artworks that they have given form to, as the material manifestation of the poem's 'hundred thousand tales'. In doing so, the exhibition positions each artwork as a unique tale, seeing the potential each one possesses to tell or retell a story, depart from a story, or to remain silent. This exhibition is indebted to the countless exhibitions that have taken place over previous decades, and the efforts of many artists, curators, collectives, writers, collectors and organisations, as well as those to come.
This exhibition was originally commissioned by the Dhaka Art Summit and was first shown at the Shilpakala Academy, Dhaka from 2–10 February 2018
We would like to thank all the artists and lenders for their generous support in making this exhibition possible.
Major Benefactors:
AOD Colombo (Pvt) Ltd
John Keells Foundation
MICD Associates
This exhibition would not have been possible without the immense generosity of:
ApiHappi
AzkoNobel
Colombo Innovation Tower
Elephant House
Fairfirst Insurance Limited
Geoffrey Bawa Trust
Gunaratne Offset (Pvt) Ltd
Idea Hub (Pvt) Ltd
M3Force Photonics (Pvt) Ltd
Samdani Art Foundation
True Value Green Products (Pvt) Ltd
VK Enterprises (Pvt) Ltd
Wijeya Newspapers
Wineworld (Pvt) Ltd