119

I have got enough guilt to start my own religion (1992)

Jagath Weerasinghe (b. 1954)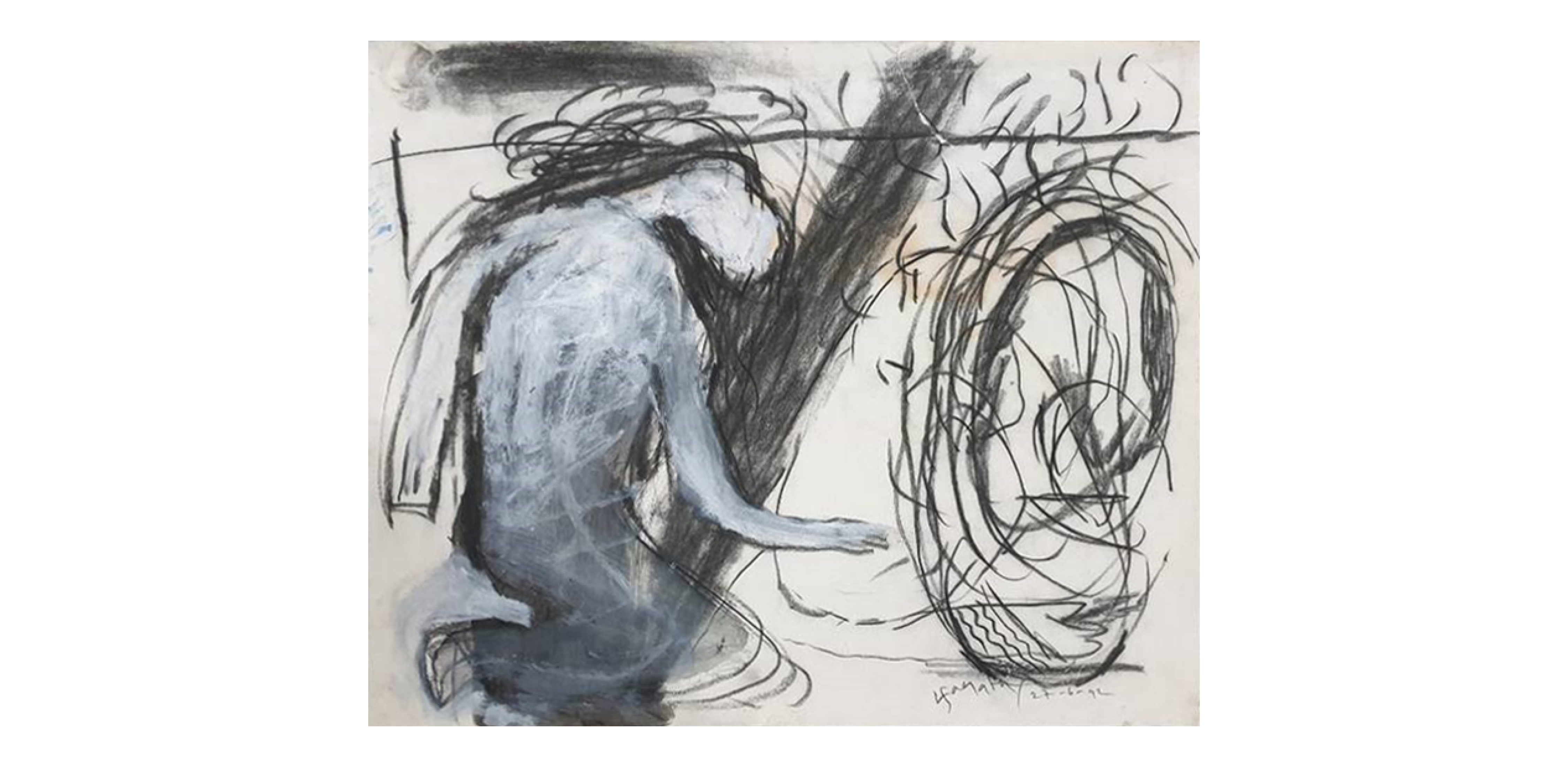 Acrylic and charcoal on paper
All works courtesy the artist and Saskia Fernando Gallery
First exhibited: 'Anxiety', National Art Gallery, Colombo,
Sri Lanka, 1992
In 1992 Jagath Weerasinghe held a solo exhibition at the National Gallery, Colombo titled 'Anxiety'. The exhibition included a musical and performance-based intervention by the composer Senaka Batagoda and artists Nimal Mendis, Anna Puff, Sarath Kumarasiri and Wijiatha Bandara. Weerasinghe presented paintings of broken Buddhist stupas, contorted male bodies and urban chaos, painted with a gestural intensity and a visceral unease of an unprecedented nature. Audiences at his show were unfamiliar with the expressive level of violence he put in front of them. For Weerasinghe, the works were a product of his guilt-ridden conscience about being a Buddhist, and having witnessed the scenes of violence during the anti-Tamil riots of 23 July 1983. Scrawled across the canvas of one work, the artist borrows the lyrics of a throwaway pop song: 'I have got enough guilt to start my own religion—crucify me' to expose the hypocrisy of religion. The show's overt criticism of Buddhism and state-organized violence was paradigmatic on many levels. Weerasinghe was just 29 when he witnessed the events of '83. After nine years of processing what he saw, his works from 1992 paved the way for several younger artists to examine the idea of the self in the face of extremism and civil unrest around them. This new political consciousness led them to work collectively and subsequently gave rise to an outpouring of work that Weerasinghe went on to define as 'the '90s trend'.
Support us to create Sri Lanka's first publicly accessible museum of modern and contemporary art.
The Museum of Modern and Contemporary Art Sri Lanka invites you to get involved through becoming a member or making a donation to our activities. Join Us